Antoni Miró, Shepherd of images
Rafael Acosta de Arriba
The first time I came in contact with the work of Antoni Miró was at the end of 1996, when I had in my hands a catalogue of his Erotic Suite exhibition, a group of 20 etchings representing the Greek pictorial art of the period comprised between the X to the V centuries before the Christian era. In other words, the ancient and classical Greece artistic creation we see in glasses, ceramic amphorae, and sculptures. These works made me aware, once again, of the recurrent influence of Classical times not only on art but also on other cultural fields.
The strength of Occident was splendidly reflected in Miró's Mediterranean etchings, a contemporary version of the style and spirit that inspired such an extraordinary culture. That sensation led me to take that series as the point of reference for an essay I wrote shortly afterwards about the presence of the human body in the western culture arts through the times. From that moment, Miró aroused my curiosity. Sometime later, a writer friend of mine gave me a book about Valencian painting until the 1980's with some pages dedicated to Antoni Miró in with he ranked among the best artists in Valencia.
Unfortunately, when in 1997 Miró exhibited for the first time in Cuba, in tile 23 and 12 art gallery in Vedado and in The Guayasamin Museum, I was in Santa Cruz de Tenerife, teaching a postgraduate course at the Universidad de La Laguna. As a result, our planes passed each other over the ocean and I could not see his exhibition. The only proof of this stay in La Havana was a small but beautiful catalogue.
The third stage of this long-distance relationship took place just last year, when a friend of mine entered my office with an "Artist from Spain", and gave me a catalogue of Miró's work. At some point of the conversation I declared my affinity to Miró's work since I did not know that his companion was the artist himself. In view of my ignorance, our common friend introduced me to Antoni Miró and everything was cleared up. I could finally meet the author of the etchings that impressed me so much. The result of that pleasant encounter was the willingness to organise the exhibition we are presenting today for the Cuban viewers at the Wifredo Lam centre.
Miró is a painter with a deep humanist awareness. I would add that this is one of the main features of this work. He uses different themes and techniques, but above all, the human being is the main theme; human's being fortune, vicissitudes, and misfortunes. This artist's work reflects time, it is time.
Miró uses many languages, codes and techniques: classical art, pop-art, conceptual art, photo-collage, or abstract art, postmodern art, just to mention a few, but he especially masters figurative art. Toni Miró is an excellent draughtsman, an expert on the etching techniques, a sculptor, a ceramist, and a painter; he is an indefatigable creator of images, a versatile artist, renowned in Spain and abroad. Miró creates new referents for beauty. His concept of beauty differs from Jeanne Moreau's "superfluous but necessary."
Eroticism, and therefore, the human body, is one of his obsessive themes, where he achieves one his best creative results. Miró understands eroticism as an effective way for human beings to be aware of themselves, or as an inspired introspection, which he reinvents over and over again. In his prolific work it can be traced a delicate imagism of sexuality and a voluptuous approach to the body. His treatment of the erotic subject reveals this artist's great communication skills.
Another prevailing topic in his works is politics. Miró's graphic and pictorial creation reflects a criticism of the imperial colonisation violence, dignifies the image of Che Guevara as a defender of poor and developing countries, and challenges all type of injustice in politics. To sum up, Miró is a fell wing politically committed intellectual, who is constantly condemning and criticising social injustice in the second ha lf of the 20th century.
It is a great honour for the Cuban viewers to have the opportunity to admire this retrospective of Miró's work at the end of the century and the millennium. Miró is a good friend of Cuba and a real admirer of the principles underlying the political project of the Cuban Revolution. A good friend, almost a brother, of Antonio Gades, another leading name in contemporary Spanish culture, Toni Miró approaches our culture with a sense of friendship. His wish to exhibit again in La Havana shows the intention to establish a link between his work and the Cuban public. After this exhibition in the Wifredo Lam centre, his work will be shown in an itinerant exhibition throughout art galleries of other provinces. On top of this, all the works (more than one hundred) will be donated to Cuban cultural institutions.
This indefatigable Valencian artist has taken his creative production from his home town -Alcoy- to the most distant places. He is a shepherd of images who has travelled from an initial figurative expressionism to the social committed neofigurativism, including in his poetry different subjects, but always having the human being as the centre of his obsessions. He handles intelligently commercial advertising icons to condemn injustice through art, a combined practice which leads the viewer to reflection. It could be described as an ingenious art, but I would prefer a more objective classification of art with a clear aim to instigate viewers against the irrational mass media influence on the turn -of- the-century man, overwhelmed by a great number of pseudo cultural products. Ironic art, committed to impress the viewers in order to keep them alert. It was an attempt to appeal to human intelligence to wake up the idea of Progress; one of the great myths of modernity.
His most recent period, which some critics have described as initiated and developed du ring the nineties, reflects social and ecological themes, and denounces the lack of awareness in industrialised societies towards environmental and nature preservation problems, but without giving up other of this recurrent themes, such as eroticism and praise for the fem a le body. Miró is still a reporter of our cru de reality, whose style and sensibility praises his communicative aim, and do not let the con ten t or the theme distort the creation of his work. Miró has contributes to contemporary Spanish (and Valencian) art with a considerable number of arguments and images.
I would not like to label a work or even an artist as «coherent», since I think it is a paradox to associate the agony, and chaos of the hectic creative process with the discipline of coherence. Therefore, I do not consider the work or the author himself coherent. However, I must admit that Miró has always remained faithful to his ideas, and to the way he understands the world where he lives. Up to now, his work shows in intense series of attempts to provide us with his humanistic obsessions, his ideas and beliefs of the current world for viewers to apprehend this vision and keep it in mind.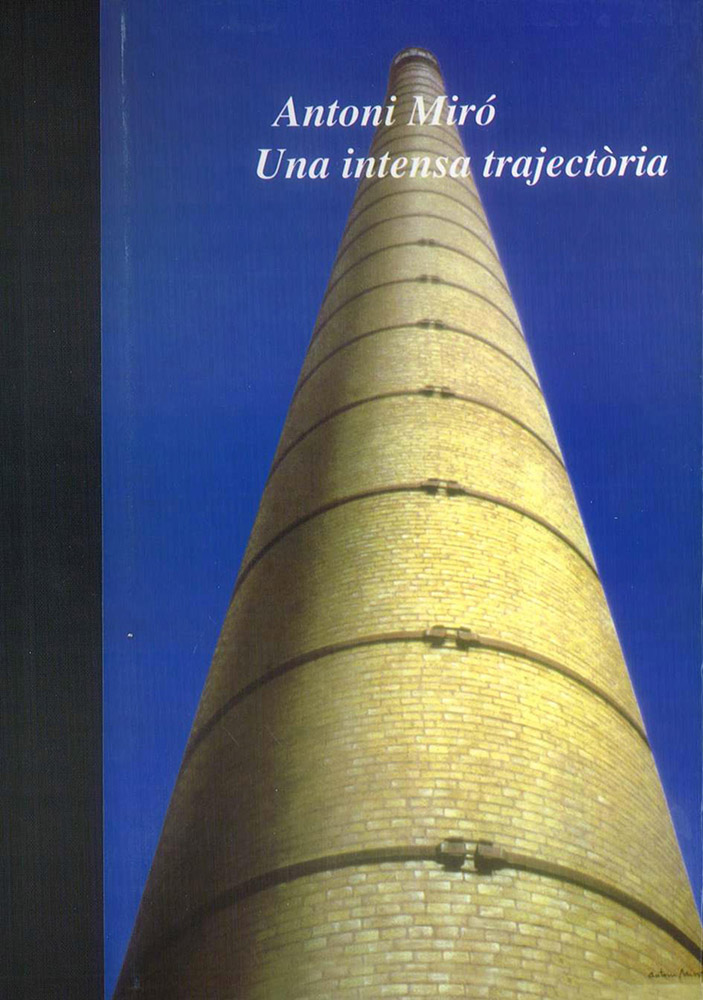 Other texts regarding Antoni Miró